HOME
SCOPES

PICTURES

QUALITY

OPTICS

F.A.Q.

SERVICES

ATM PARTS

ACDS

SWAG

LINKS

CONTACT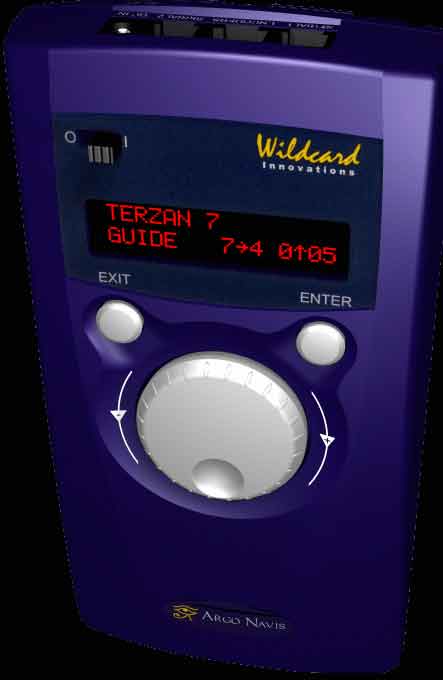 ARGO NAVIS
The ArgoNavis is the most advanced DSC (Digital Setting Circle) in the world. What's a Digital Setting Circle? Back in the not too distant past, telescopes still had setting circles with engraved numbers on them that were used to find objects in the sky. All you needed was a star chart, a book, a clock, a calculator, a flashlight, and an accurate telescope mount.
Today we have the all digital version, literally a Digital Telescope Computer. Using two different 32-bit computer processors, the Argo Navis finds any celestial object, AND lets you add any newly discovered objects anytime from your home computer. Planets, stars, galaxies, satellites, you name it, the Argo Navis comes with over 29,000 objects already installed. That's enough for a lifetime of viewing, let alone all of the new comets, planets, and asteroids you will be adding as years go by.
Because you can align on ANY two objects, you can pick, say, Jupiter and Saturn and be aligned before the sun even sets! No need to level your telescope! Just pick any two objects and you are one with the sky. For you solar observers out there, you can even have the Argo Navis track the sun.
Wildcard Innovations, the makers of the Argo Navis, continually add on new features that you can download from their web site. And, all updates are FREE!
The Argo Navis' large, simple controls are easy to use, even with gloves on. If you have a limited horizon (like in your tree lined backyard), the Argo Navis can lead you through a tour of just the visible portion of your sky. Works with many different digital encoders. The Argo Navis lets you spend 1% of your night time searching and 99% of it viewing, instead of the other way around! Highly recommended!
Price: $599
Serial Programming Cable $20
10K HD Encoder: $75