TRUSS CLAMPS

Tired of wood "split blocks" that split? Our 1.5" and 2" diameter truss clamps securely hold your telescope trusses without the problems associated with wood split blocks. If your wood blocks are always too tight in the winter or on damp nights, you are going to love our precision made truss clamps.
After installation, the clamp is infinitely adjustable, thus no math or guesswork is required as to angle of the trusses. This really makes it easy on first time scope builders and is much appreciated by the pros.
Our clamps come with either star knobs (shown) or "T" knobs (easier to operate with gloves on), your choice.
We do not currently sell 1" or 1.25" truss clamps. The costs involved to make the molds for those seldom used sizes would take too long for us to make our money back. Sorry about that.
Price: $ 16.00 ea.
1.5" UTA TRUSS CLAMPS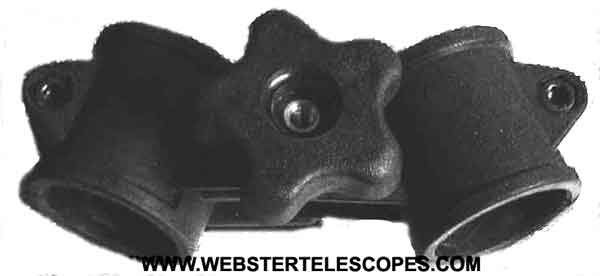 The second half of our no tools truss system is our UTA Truss Clamps. Each clamp holds two trusses. Spreads to any angle, again no math needed! No need to remove trusses from the UTA Clamp during take down. Trusses simply fold together intact for storage. We use them on a 1/4" locking shaft so the knob need never be removed, you may find other ways to use them for your own set up (please let us know of any new uses you discover).
The best part of our whole truss system is that the trusses are left open on both ends. This gives you a clear wiring conduit for 12v systems, cameras, DSC, joysticks, dew removal, whatever you need. Keeps your scope looking neat and keeps wires safe from curious hands. Another Webster Telescope exclusive.
Price: $ 21.00 ea.
UTA RECEIVER BRACKET FOR 1.5" UTA CLAMP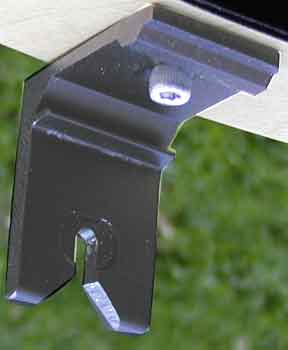 Our no slip, positive locking design is the most secure way to lock down your UTA, for repeatable collimation.
Price: $15.00
2" UTA TRUSS CLAMPS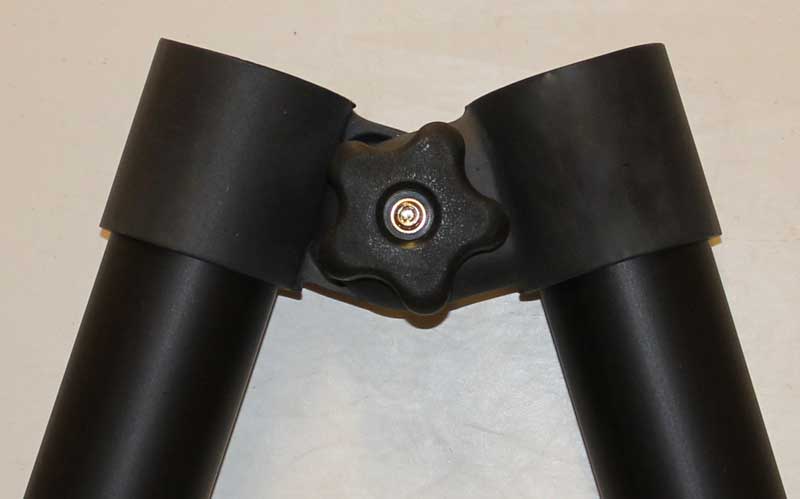 These lightweight aluminum alloy UTA clamps are cast, then bored out to 2" on the CNC Lathe. These are intended for either very large Dobs (36" and up) or very long focal length big Dobs (for instance a 32" f/5).

Like our other size UTA clamps, our 2" clamp allows you to use just plain aircraft aluminum tubing, with no welding required (if you weld 6061 aluminum tubing, you lose 80% of its strength). The clamps leave the tubing completely open to wiring, for a clean look.
Price: $80.00 a pair
UTA RECEIVER BRACKET FOR 2" CLAMP $20.00