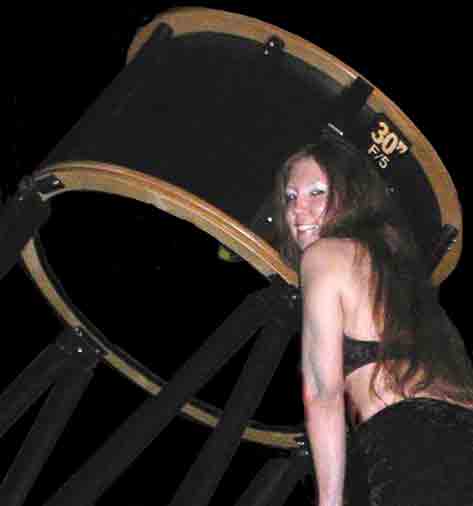 Webster Telescopes has always had one goal in mind, BIG, PORTABLE DOBSONIAN TELESCOPES! While other manufactures were removing the large telescopes from their product lines, we were adding even bigger ones to ours. To us, it is not a chore to build the "Big Ones", it is our passion!
But, just making the largest telescopes is not enough of a goal for us. Making Ultra-premium telescopes, unmatched by any commercial scope manufacturer, now that's a goal worthy of the Webster family name. Now in our 4th generation of woodworkers, Webster Telescopes really can claim to combine Old World craftsmanship with today's Computer Aided Design.
Having a giant telescope would only be half the fun if you could not take it with you. Our telescopes were designed right from the start to break down into an easily transportable unit. Our users report that they can set up a Webster Telescope in 15 minutes, all by themselves. Your will be aligned and viewing while the other guys are still leveling their tripods.
Our new "C" series of truss telescopes exclusively feature Kennedy Optics telescope mirrors. These "fast" mirrors have taken the astronomy world by storm, especially for those who have an Obsession for textbook Star Tests.
We are Michigan's dealer for Feathertouch, ArgoNavis, ServoCAT and Astrosystems. Check out our ATM Parts for all of the Dobsonian telescope parts you need for your own project.
Please take a few minutes to surf our site, and dream about what you really want from your next telescope. The Newtonian scope has come a long way.....