MIRROR CELLS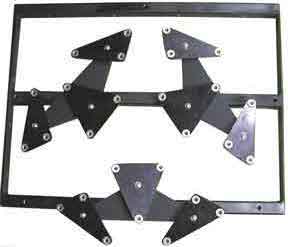 The most important part of a large aperture telescope is the mirror support system. The Webster Telescope mirror cells are computer designed using PLOP. Every single pivoting point in our system is riding on a steel bearing requiring only a few grams of pressure.
Your mirror will be supported 1/4" above the triangles, allowing plenty of air to reach the entire rear mirror surface. The support triangles are kept separated by heavy, stainless steel wire, no plastic rings or bars to deflect air from your mirror here! In fact, you will notice that the entire mirror cell was engineered to maximize air flow. We understand the importance of getting your mirror down to the ambient temperature, fast.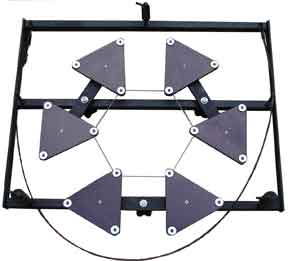 Cells are available in cable sling or glue down configurations at no additional charge.
More about our mirror cells in our Quality Tour HERE.
Heavy gage, USA made steel from 1" to 3" thick is used in our frames. Support triangles are milled from 1/4" to 3/4" plate. The fame is shipped primed and painted in flat camo black, triangles are shipped natural, although almost any color anodizing is available at slight additional cost. Our mirror cells are available in all popular mirror sizes.
PRICES:
10 to 15" MIRRORS - 9 POINT CELL $700.00
16 to 28" MIRRORS - 18 POINT CELL $800.00
30 to 36" MIRRORS - 27 POINT CELL $1000.00
38 to 48" MIRRORS - 36 POINT CELL $1600.00
---